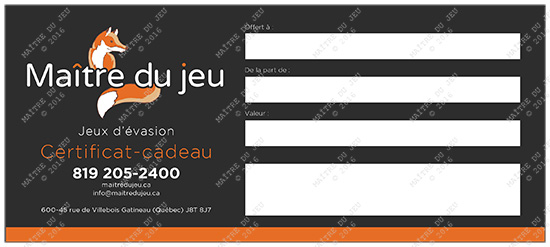 You must create an account to purchase a gift certificate.
This ensures you have access to your purchases at all times.
You have the option to buy participations for the scenario of your choice at a cost of $ 36.78 ($ 31.99 + tx) each, or a gift certificate in the amount of your choice.
Please present your gift certificate, in paper or electronic format, at the time of payment.
In your account, download the gift certificate in PDF format, in order to print it.
It is possible to obtain a paper version of the gift certificate by presenting yourself to Maître du Jeu at no additional cost.
Create a certificate